In The Shop-Customer Reviews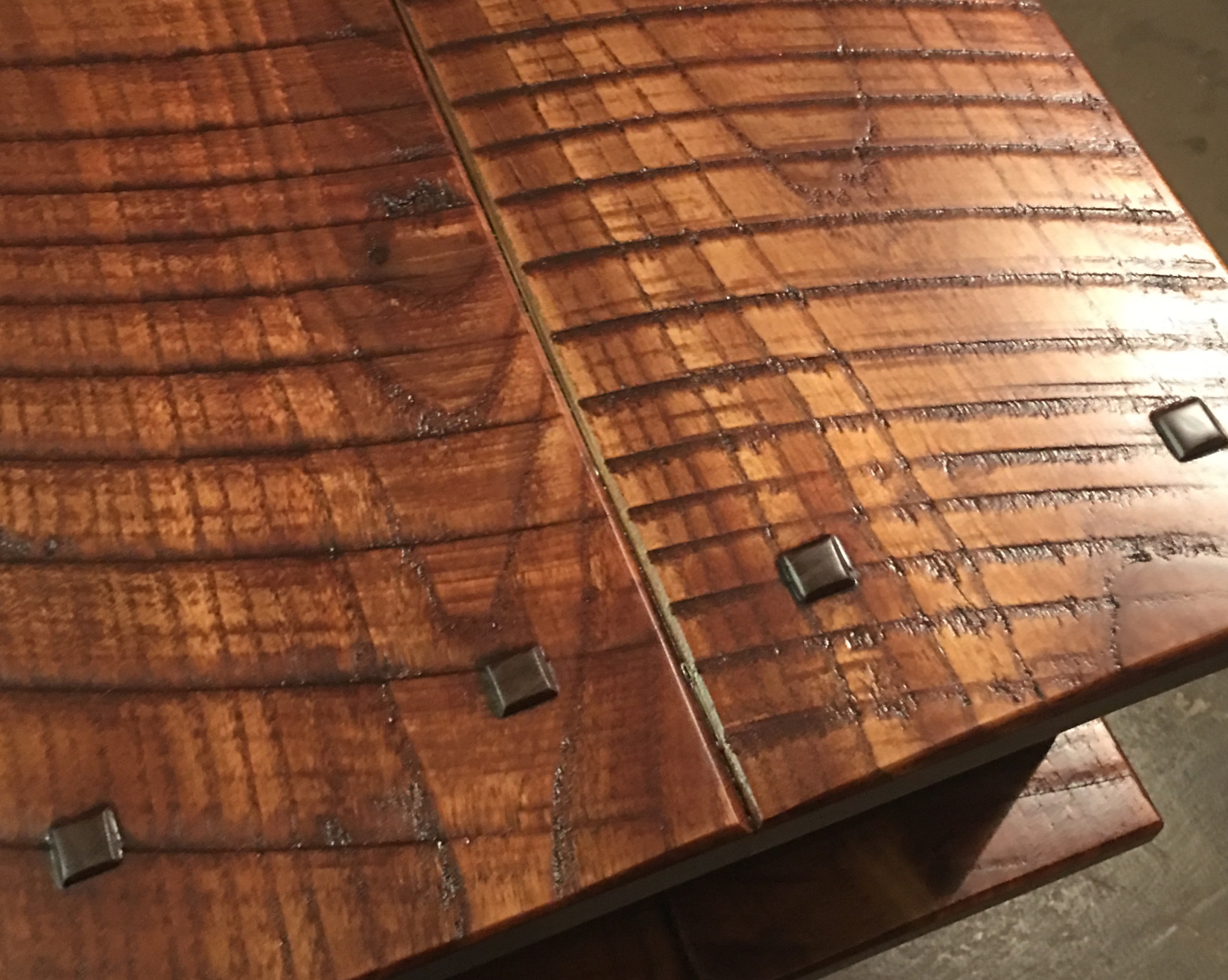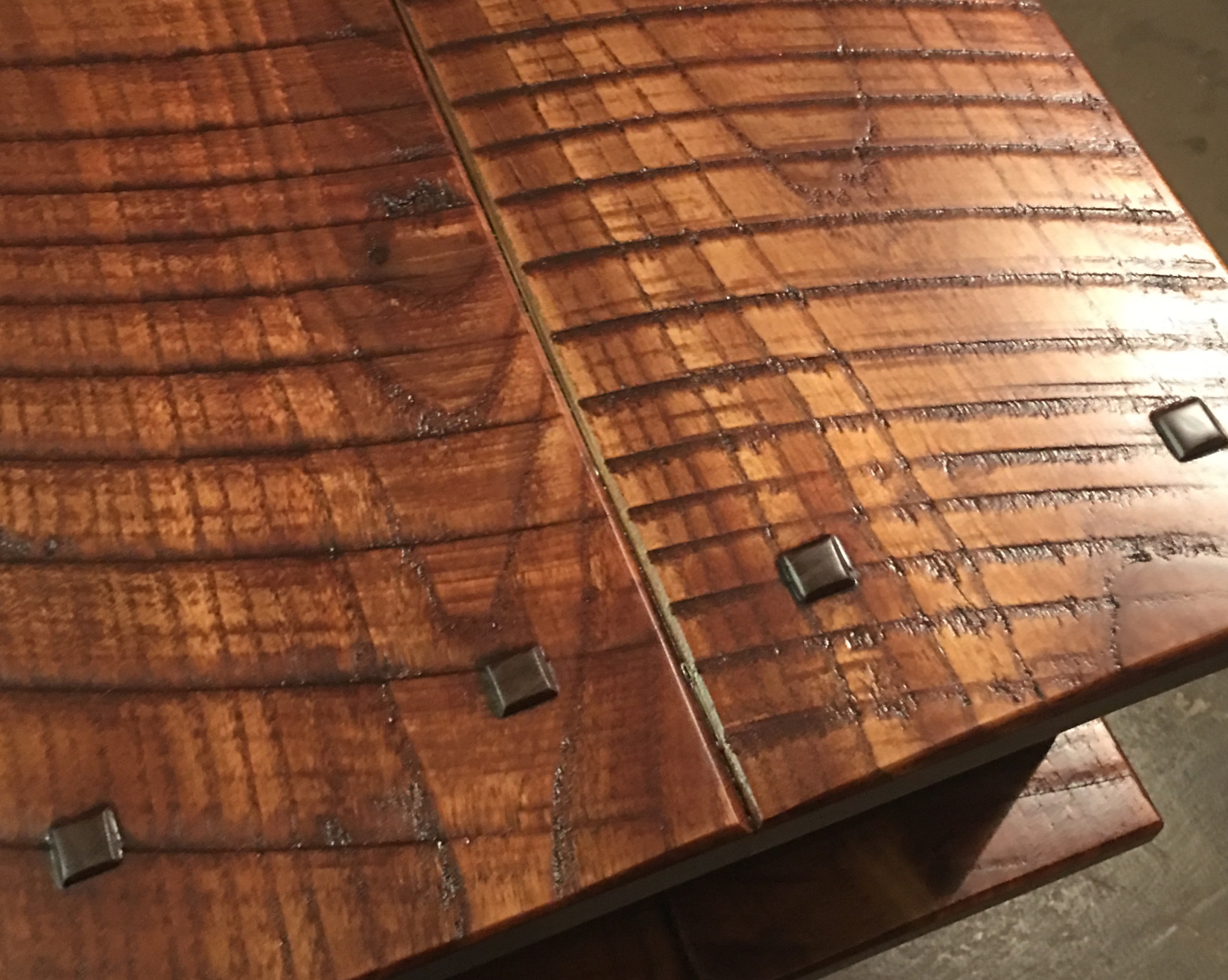 In The Shop-Customer Reviews
The pieces in the gallery section were all built on speculation, but most of what I do is commissioned. In The Shop shows how things go together as well as some of the pieces that are shipped before photography.
I really do love what I do and am very thankful for everyone that has given me a chance to build something for them.
Griffin Modern Furniture was proud to be listed as one of the top 10 furniture designers of 2017 by Core 77 Design Magazine.
Customer Reviews.
Justin C.
Another fantastic, one of a kind piece from this shop. Tired of boring particle board crap? Look no further than this shop for unique pieces.
Anthony C.
This is such a cool piece of furniture, made of wood but looks like metal, and with super detail, even down to the simulated weld bead on the features. Kent was great to work with, we were both getting hit with winter weather in IA, and here in south central WA, and Kent gave me shipping status updates everyday until the cabinet arrived. The crating and protection of the cabinet were very good, it arrived with no damage. Thanks Griffin Modern for the great cabinet and excellent customer service.
Kevin M.
Kent is an absolute pleasure to deal with. From the design phase of my custom sommelier cabinet, to the great pictures of the work in progress, to the unbelievable quality of the piece itself, everything exceeded expectation. You'll not find a more conscientious, humble, detailed oriented craftsman than Kent. I would recommend Griffin Modern to anyone thinking about getting a special piece of furniture that is as functional as it is cool to look at.
Monte M.
Such a great experience and a true creative professional to work with! I was totally thrilled with his enthusiasm, ideas and timeliness. He showed great trust and faith in me as a customer and I appreciated his collaborative spirit. I will definitely be using Griffin Modern for all my cool custom wood needs in the future...and am already working on ideas!
Lily C.
"If you are looking for superbly crafted cabinetry designed by someone who is patient, detail-oriented, and frickin' brilliant, then Griffin Modern is your place. Working with Kent was both an extreme pleasure and a rare experience; you usually don't encounter artisans who are both highly skilled and totally fun to work with. The cabinet Kent built was done on time, on budget, and turned out even better than I had expected. To this day I still find myself staring at it in awe; visitors mutter things like "cool," "heirloom," and "work of art." While renovating my home I have worked with a lot of contractors, and this was by far the best experience and the best purchase I have made."
Nick R:
I ordered a custom-built steam punk cabinet from this seller and as a first-time buyer from Griffin Modern, I was thoroughly impressed with the customer service and response time during the build.
Kent takes a lot of pride in his work, and it shows by the level of detail that he provides with custom options, as well as photo updates as the cabinet came together from multiple rendering options to day-by-day progress photos. I was very happy with the final set of photos Kent provided prior to shipment as they reflected EXACTLY what I had wanted, but this was no surprise since Kent is exemplary in his craftsmanship & communication. I was even more blown away when I received the actual item, which was carefully crated to ensure that it was dent and scratch free. This steam punk cabinet is now the showpiece in my new office and I do hope to order again from Kent in the future. A 5-star seller and then some!
Steve P:
I ordered three pieces from Griffin Modern. First, the experience was top notch. The craftsman who created these cabinets was responsive, in constant communication, and so obviously took great pride in his work. And for good reason.
These cabinets are AMAZING. Well built and insanely beautiful.
They are easily the center piece in my home.
Do yourself a huge favor and order something from this company. You will be treated to the best of experiences and never regret the decision.
Jeremy T:
The piece of furniture I purchased from Griffin Modern is without a doubt to "coolest" piece of furniture I own. Kent and his line of furniture is truly unique and one of a kind, its equal parts furniture and art. I can't wait to start using it!
I WILL buy another piece the next opportunity I have!!

Sean P:
I read about Griffin Modern in an article in the Des Moines Register and then went to the web site and Facebook page. We ended up purchasing a desk he had already completed and requested a matching credenza. Kent was great to work with, and the credenza turned out exactly as we hoped. Kent kept us informed of his progress with frequent photos and descriptions.
The work is top notch and you won't find a nicer person.
We look forward to having these pieces for years to come.
Jean W:
Kent designed and built a custom cabinet for my husband's home office. He was fun to work with, super creative, and fast (both in responding and in building). The end result was amazing, fun, cool, and unique -- just what we wanted.
We plan to have Kent make an office desk soon!
Charlie:
Griffin Modern offers superb quality, great customer service, and a design aesthetic you can't find anywhere else. We absolutely love our "CRUZ" piece. Highly recommended. Highly cherished.
Noah S:
This artist is incredible. Best piece of art/ furniture I have ever purchased. Worth every penny and more. He was in contact with me the whole time and open to suggestions and feedback. Craftsmanship is amazing. Detail is spot on and immaculate.
It's so flipping awesome!
Justin C.
Fantastic! Superb! As I enter my middle ages, my tolerance for low quality, carbon copy furniture has gone to zero. I seek unique, Craftsman built pieces and this cabinet exceeds my expectations. Dealing with builder has been nothing but a pleasure and I am already looking forward to my next piece.
Candice E. I ordered the Cruz. This was a cabinet listed as "Sold" so they had to make another. I found Griffin Modern to be extremely professional.
All work on my piece was demonstrated almost daily with quality photos via. e-mail. Completion time was as promised and the budget didn't change. Griffin Modern is a unique, creative, artistic furniture company. It was a fun experience and I would recommend them to anyone.